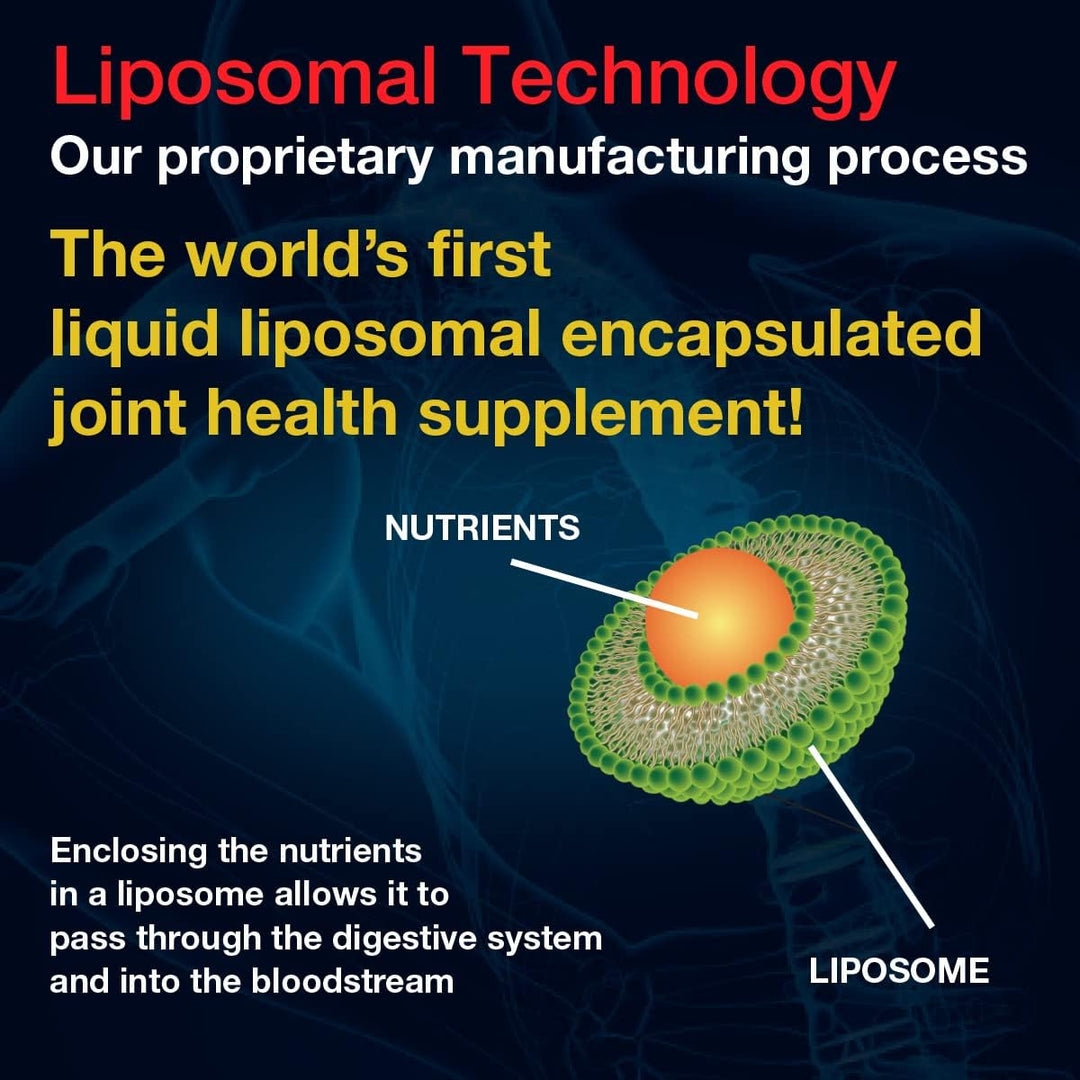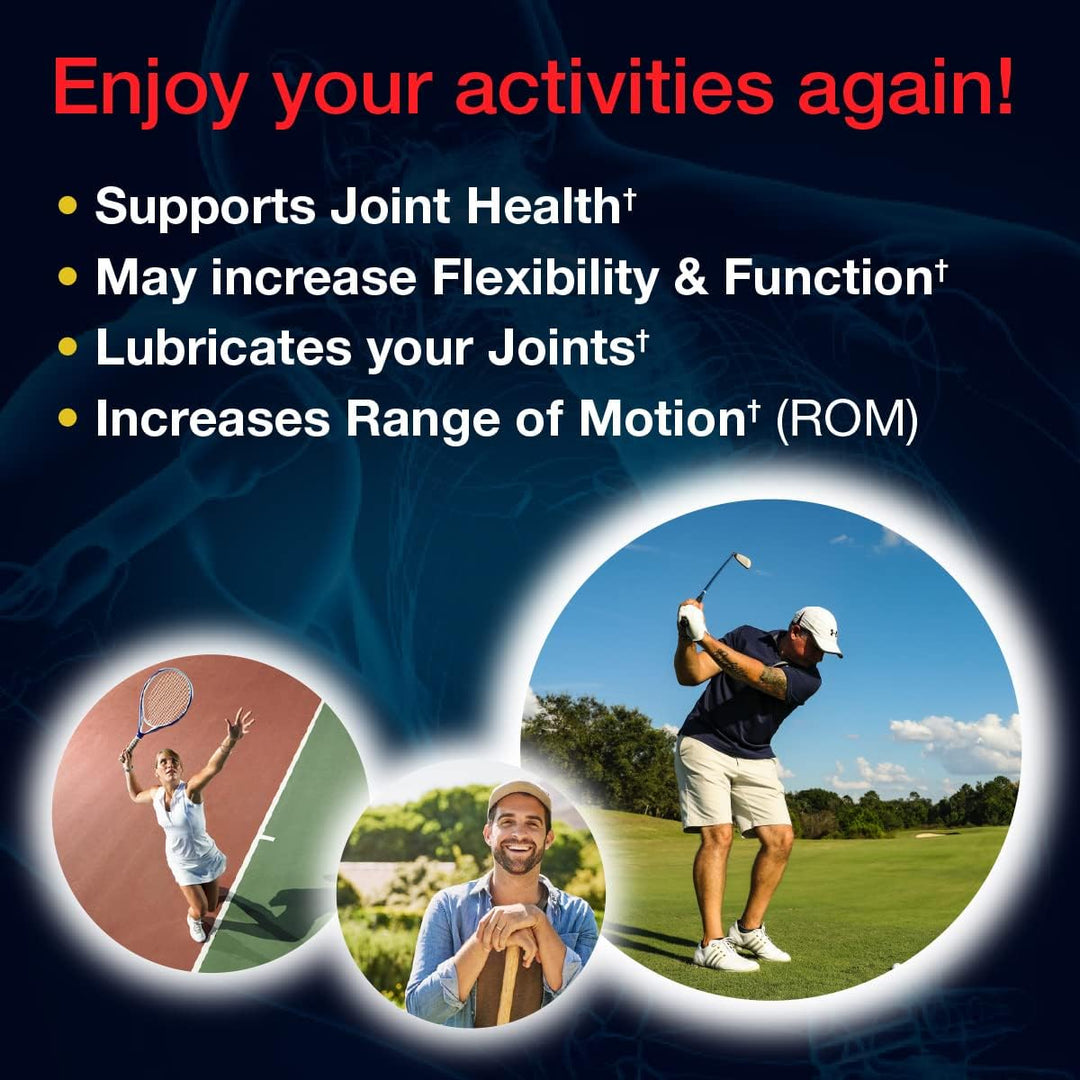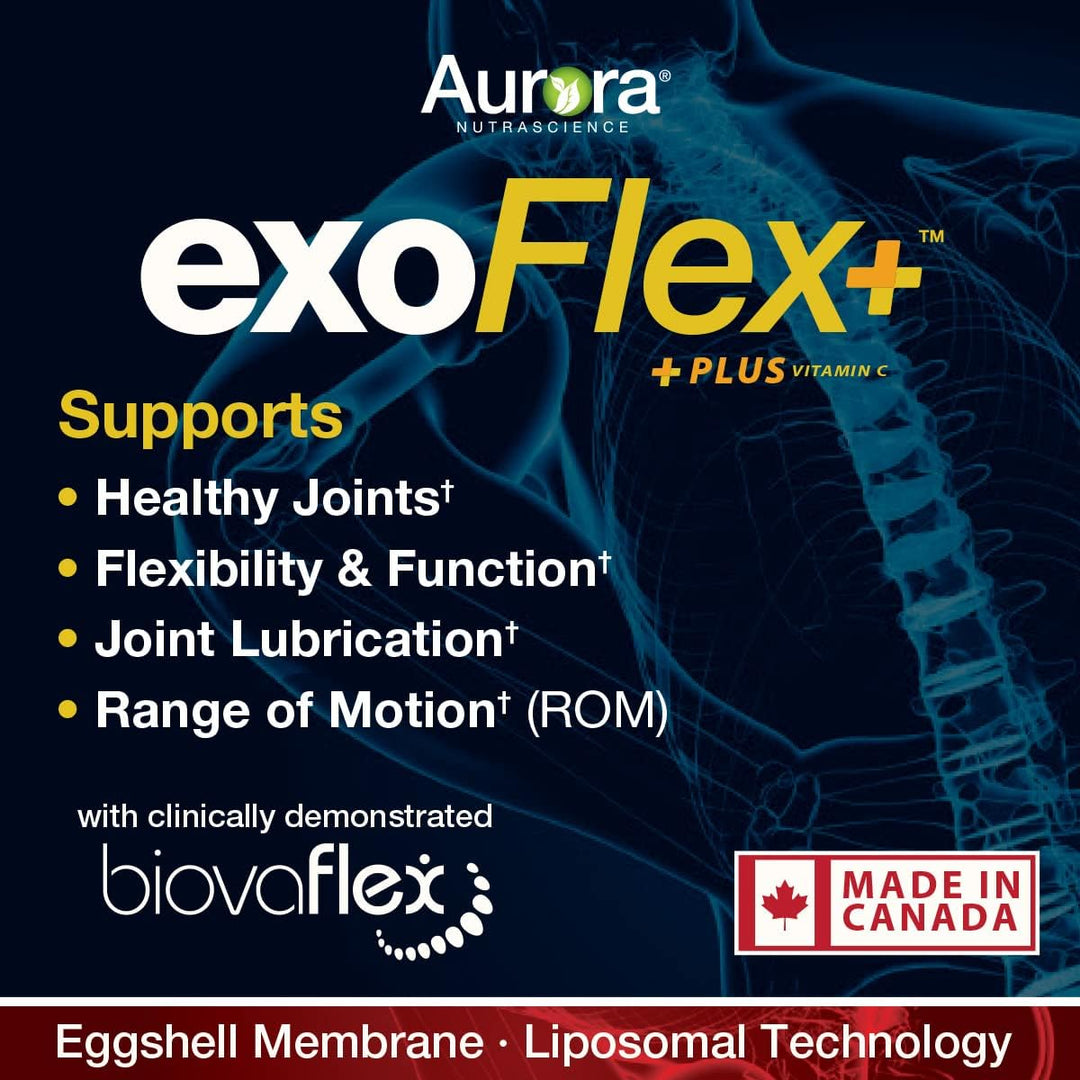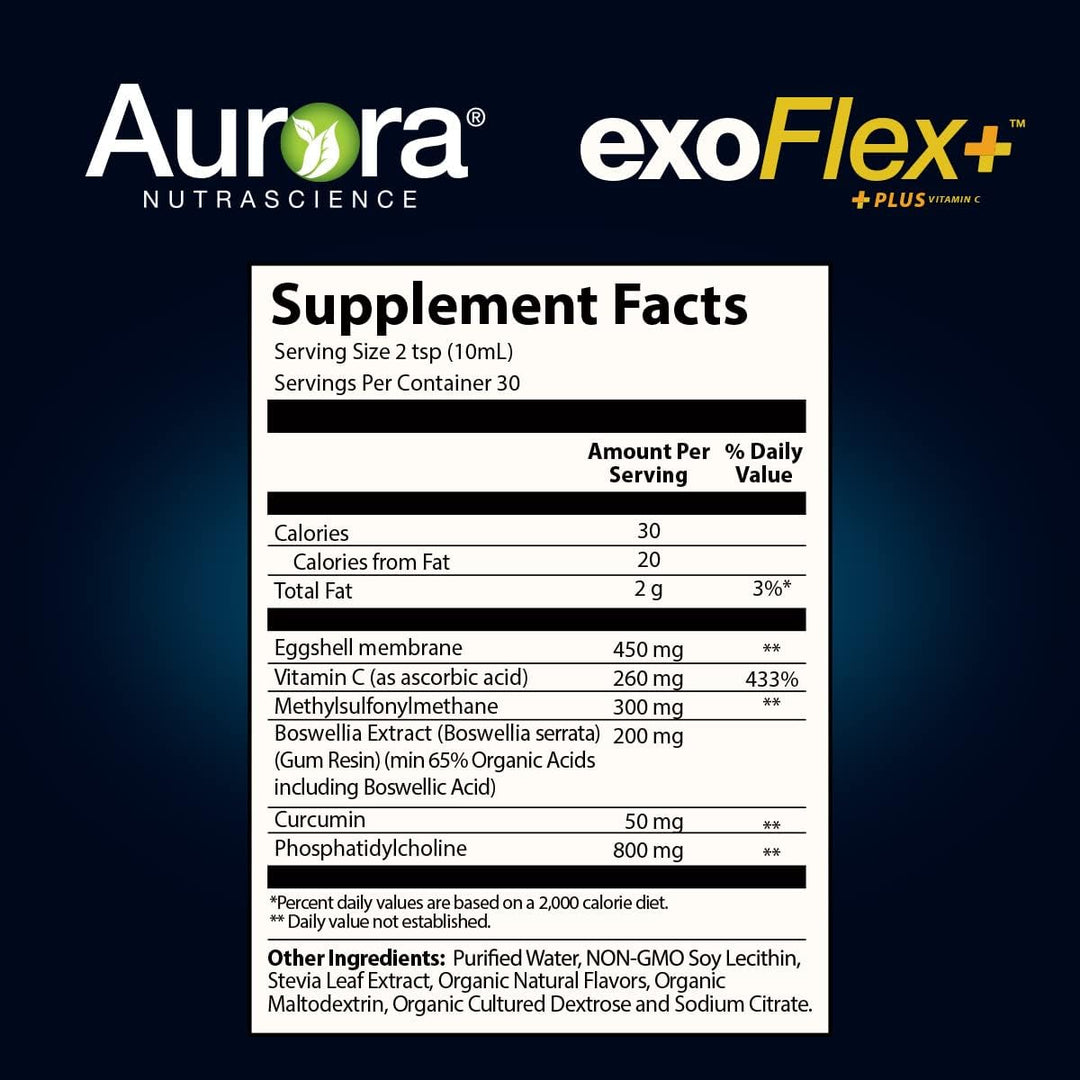 exoFlex - Eggshell Membrane with BiovaFlex + Vitamin C, Curcumin & Boswellia
Regular price
$44.99
Sale price
$34.99
Save $10.00
/
In stock, ready to ship

Inventory on the way
ExoFlex+
exoFlex+ is the smarter, scientifically created, all-natural, drug-free solution for people with stress-related inflammation, osteoarthritis, tendinitis, or other degenerative joint problems!
Aurora Nutrascience Inc, a Cutting Edge™, Canadian based Nutraceutical manufacturer and pioneer in the liposomal industry, brings you exoFlex+, the world's first liposomal encapsulated joint & hip supplement for people. When choosing a natural joint health supplement, it's not only the ingredients that are important, or even their dosage size but, how the nutrients get to their targeted areas to start providing results. exoFlex+ is a powerful formulation of potent, synergistic nutrients encapsulated into all-natural lipospheres. These incredible nano-sized liposomes protect the exoFlex+ ingredients, helping to facilitate a more efficient transition through the enzymes of the digestive system as they make their way into the body's bloodstream.
Problems
The body's joints are basically anatomical structures consisting of two bones, separated by a tough, elastic, shock-absorbing, flexible connective tissue called cartilage. In most cases the cartilage is wrapped in ligaments as well as the tendons of muscles that create the movement at the joints. These articulate joints are found throughout our body providing us with the ability to move. The number one cause of joint pain is osteoarthritis or age related inflammation, wear and tear and the breakdown of cartilage due to strenuous athletic training or injury on the joint structures. These conditions can create a multitude of symptoms including swelling, pain, irritation and a substantial loss of range of motion coupled with the decreased overall function of the joint.
Currently, joint pain sufferers are bombarded by a multitude of products being offered in the market declaring to eliminate pain and increase mobility. Most of these products contain high concentrations of glucosamine and chondroitin with the claims that somehow ingesting these nutrients delivers them directly to your joints. Unfortunately, there is little evidence that there is any validation to these claims. What you will find in their products is ingredients like Willow Bark™ that's main active chemical is salicin. Medical experts believe that when the body processes salicin, it turns it into salicylic acid, which is the chemical precursor to aspirin. Based on this, any results you may experience from these joint products would be similar to taking a couple of aspirins a day and simply masking a fraction of your pain.
Solutions
In contrast, exoFlex+ works by providing Biova, LLC's egg membrane BiovaFlex™ along with select nutraceutical grade nutrients and antioxidants into a liquid form. BiovaFlex has demonstrated to Reduce Joint Pain and increase Range of Motion in clinical studies submitted to Health Canada. This potent formula can assist the body to neutralize and decrease the free radical damage while helping to create the building blocks required to aid in reducing inflammation. exoFlex+ can also help to promote the rehydration and restoration of essential joint fluids and tissue, thus improving your overall joint health and quality of life.
Side Panel Ingredients
BiovaFlex
BiovaFlex is natural egg membrane that feeds your body all essential nutrients for proper joint health and flexibility, including glucosamine, chondroitin sulfate, collagen, elastin and other proteins. When used as a daily supplement, BiovaFlex has the potential to assist fast arthritis pain relief. As well, BiovaFlex may prevent and reduce joint pain, while providing cartilage building and reducing inflammatory markers like C Reactive protein. Eggshell membrane consists of fibrous proteins, including collagen Type 1, as well as other bioactive components like, glycosaminoglycans.
Eggshell membrane itself has shown both in vitro and in vivo to reduce various pro-inflammatory cytokines, including interleukin-1 beta (IL-1) and tumor necrosis factor alpha (TNF-a), two primary mediators of inflammation.
Methylsulfonylmethane (MSM)
The sulfur compound MSM is found naturally in the body and in animals, fruits, vegetables, and grains. The claim is that MSM reduces joint pain and inflammation. MSM contains sulfur, which the body needs to form connective tissue. MSM may also act as a painkiller by quieting nerve impulses that transmit pain.
Boswellia Serrata
Boswellia is known for its anti-inflammatory capabilities. It is derived from the gum of boswellia trees, which are indigenous to India. Also called frankincense, this herb is thought to work by blocking leukotrienes. Leukotrienes are substances that can attack healthy joints in autoimmune diseases such as rheumatoid arthritis.
Curcumin
Curcumin is known for its potent anti-inflammatory properties. The compound has been shown to influence more than 700 genes, and it can inhibit both the activity and the synthesis of cyclooxygenase-2 (COX2) and 5-lipooxygenase (5-LOX), as well as other enzymes that have been implicated in inflammation.
Vitamin C
Vitamin C is an anti-oxidizing agent that helps protect connective tissues like the ligaments, tendons, and skin, not to mention the bones and joints. Vitamin C helps make collagen which is important for the flexibility of muscles and blood vessels.
Aurora Nutrascience exoFlex+:
Healthy Joints
Flexibility & Function
Joint Lubrication
Range of Motion (ROM)
With clinically demonstrated biovaflex
 *These statements have not been evaluated by the Food and Drug Administration. This product is not intended to diagnose, treat, cure, or prevent any disease.